T-Shirts For Sale
After these notices from the health department started appearing in restaurants all around LA, my friends and i found it fascinating to trade neat discoveries that one could make from a red light.
| | |
| --- | --- |
| | "I made a bet with Yoko and won. Now she has to come with me to El Tarasco on Washington whenever i want. They got a bright blue A last week." |
| | "There's 50 more reasons to call Chinatown, 'C-Town'." |
| | "Did you know the Cheesecake Factory in the Marina got a C!" |
| | "Guess what Crazy Fish got in Bevery Hills? A D! But they didn't dare display it, so they only showed the percentage. Sushi places shouldn't get Ds, man..." |
i reckoned we weren't the only ones enjoying the new spectator sport. it must be on the public consciousness as much as my own, which means that it will be on a t-shirt. so i wanted to do it first.
just sticking the copy of the grade notice would be a bit boring, so i made up a theme: How would LA grade its own residents? the same way the residents regard each other. if you've lived in LA, you know that LA values run about opposite most of the world. for example, a rude uneducated person with a nice tan might easily be blessed by the city of angles with an A as long as he's got a nice shirt on that day. if you retain a sense of humor about this phenomenon, you get a C. if it grates on you a bit, you get a B. if it becomes intolerable, you get an F.
i made four shirts. click one to zoom up and read the detail.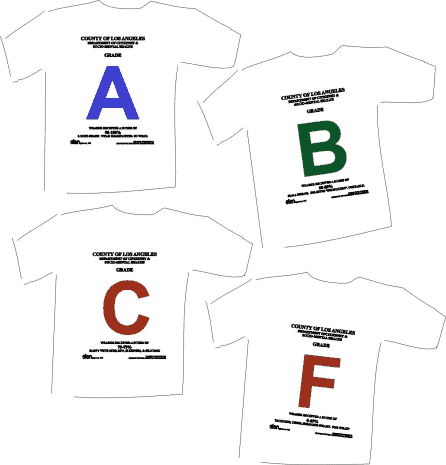 If you want one, write to me or danni@cyberjava.com to pick one up at the CyberJava in Venice, CA, or visit the CyberJava Online Store or the nifty glen.org java store (button below).